English
Company Profile
Greeting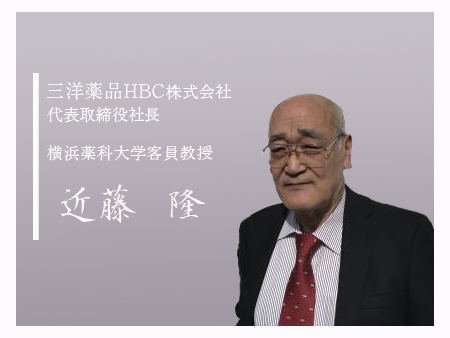 Sanyo Yakuhin HBC Co., Ltd. is based on Sanyo Pharmaceutical Co., Ltd. and Mochinoki Pharmaceutical Co., Ltd., which is a drug placement business founded in 1955, with E-Commerce SVS Corporation, ONE FESTA Co., Ltd., and telephone marketing. The company merged with Acress Co., Ltd., and 2019 is the founding year of the new era.  We aim to be a company that can deliver health- and beauty-related products, services, and information through omni-channel and multimedia, and contribute to "more energy," "more beautiful," and "improvement of QOL." Although it is still a small company, its history and credibility can not be without the 88 years of millions of customers' credibility, and the efforts and beliefs of thousands of executives and employees.  We firmly accept the thought of our predecessors, and aim to be a 100-year company that develops products, services, and information related to health and beauty globally as well as in Japan.  I sincerely ask for your patronage of the people who will change in the future, and I will make it a greeting.
Company Profile
as of February,2019
Company name
Sanyo Yakuhin HBC Corporation
CEO
Takashi Kondo
Location
〒171-0021
2-39-6 Nishi-Ikebukuro, Ikebukuro Tsurumi Building 3F Toshima-ku, Tokyo
TEL
0120-86-3434
FAX
0120-61-6136
Hours

Weekdays from 9:00 to 20:00
Saturdays, Sundays, and holidays 9:00 to 18:00

Business content

Household distribution of drugs
Business of selling quasi-pharmaceutical products, healthy food, cosmetics, US dietary supplements
Marketing and manufacturing of cosmetics
Cross-border e-commerce business

Suppliers

Yakuhin Kogyo Co., Ltd.
TOA Pharmaceuticals Co., Ltd.
Taikyo pharmaceutical Co., Ltd.
SBI ALApromo Co., Ltd.
Hoshi Pharmaceutical Co., Ltd. etc

number of employees
253 people(Including part-time job)
Sanyo Yakuhin HBC Corporation
Company med
・Health and Beauty
・Omni channel
*1
and cross border
*2
・Improving self-medication and QOL
*3
 *1 Omni channel: Door-to-door sales, mail order, store sales
 *2 Cross border: Cross border business
 *3 QOL: Quality of Life
Company training
Working with a fair, humble heart, always respect the heavens, love people, communicate reliable products, information and services in multimedia, quickly and stably supply by omni-channel, improve customer's QOL Contribute to
About the goal
Became the best direct sales company in Japan to deliver information related to health and beauty through omni-channel and multimedia.
It will be a company with an annual sales of 10 billion yen by 2030, one of its founding 100 years.
With work
It is your job to share the work necessary for humanity and the earth to enjoy richer lives (life activities). By sharing, you can be specialized, improve your productivity, and you can do big jobs that you can not do alone.
There is no interesting work from the beginning. Since you worked hard, the work is interesting. If you believe in the value of your work, your work will begin to shine. If you believe in yourself tomorrow, today will begin to shine.
Business Division Introduction
Door-to-door sales of medicine
This is a home-visit sales business that delivers products, information and services from 42 sales offices nationwide for pharmaceuticals, health food and cosmetics.
Once you have placed the medicine box, you will have a long relationship with the customer over generations. The permanence and convenience of the "first-aid after-sales" transaction form, in which you pay only for what you use, is attractive.
( formerly Sanyo / formerly Mochinoki formerly Towa / formerly Yamato )
Telephone Marketing Division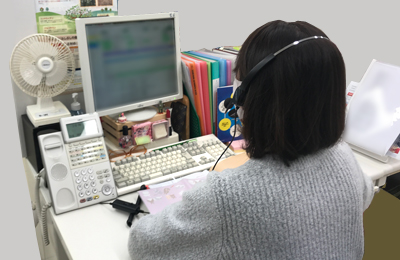 It is a mail-order business that introduces health food and cosmetics mainly by phone and delivers products, information and services.
(formerly Telemart / formerly Acress)
E-Commerce Division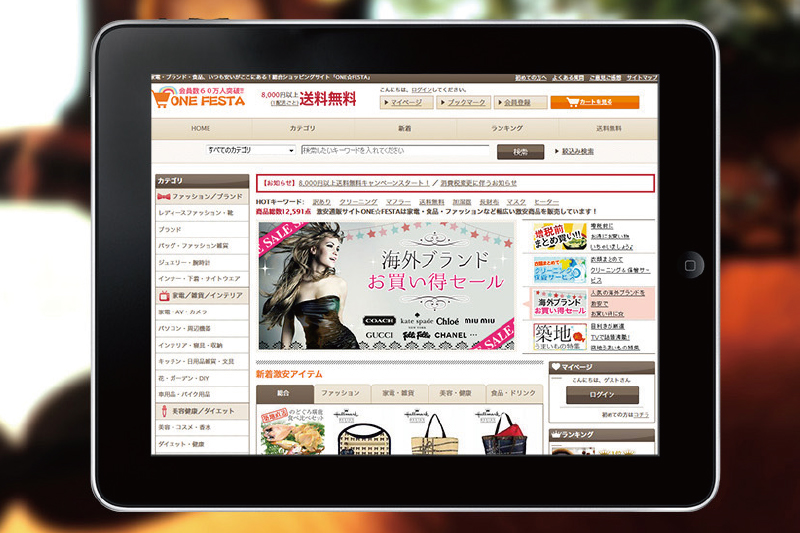 We operate the online shop "Sanyo Yakuhin HBC Net", "Pet Care.com".
A multimedia and omni-channel Internet sales business that develops an omni service that promotes cooperation measures between home sales and telephone mail-orders, as well as supporting the convenience of shopping anytime and anywhere with PCs and smartphones. is.
(formerly SVS Corporation/formerly ONEFESTA)
Overseas Division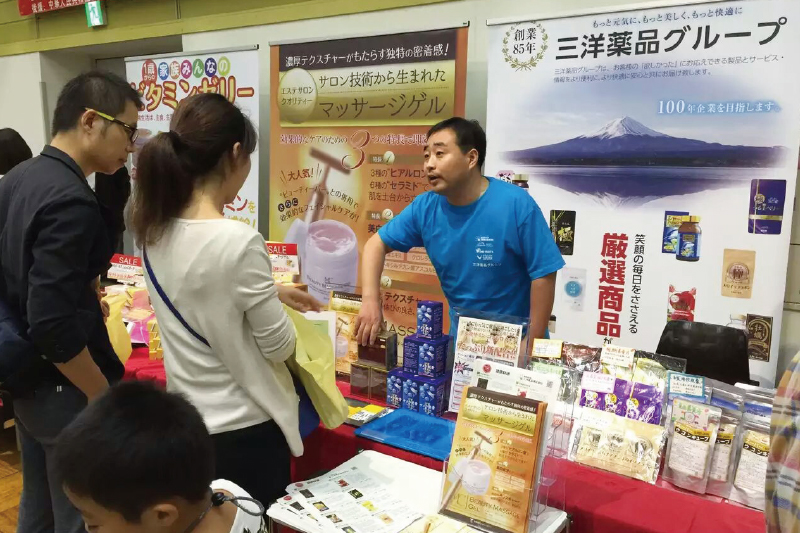 Japan's health and beauty products, information and services are delivered via Internet to people in China. We will strive to provide new value to our customers.
(SANYO YAKUHIN.INC. / Shanghai Feizhen)
History
| | |
| --- | --- |
| 2015 November 2 | Established Kondo Holdings Co., Ltd. |
| 2019 January 1 | Merged with 5 companies of the Sanyo Pharmaceutical Group, changed the company name to Sanyo Yakuhin HBC Co., Ltd. |
Door-to-door sales of medicine Division
| | |
| --- | --- |
| 1955 August | Founded Sanyo Pharmaceutical (Sanyo Pharmaceutical) |
| 1955 July | Changed company name to Sanyo Pharmaceutical Co., Ltd. (Sanyo Pharmaceutical) |
| 1984 November | Established as Zenkaido Pharmaceutical Co., Ltd. (Mochinoki Pharmaceutical) |
| 1995 March | Head office relocated to 4-7, 6-7, Kiren Nishi, Hirano-ku, Osaka City (Mochinoki Pharmaceutical) |
| 2002 January | Changed company name to Sapporo Mochiki Pharmaceutical Co., Ltd. (Mochinoki Pharmaceutical) |
| 2003 January | Changed company name to Mochinoyaku Co., Ltd. (Mochinoki Pharmaceutical) |
| 2004 September | Head office moved to Kitakyuhoji-cho, Chuo-ku, Osaka City, 3rd-15 (Mochinoki Pharmaceutical) |
| 2007 October | Changed company name to EL Arrange Inc. (Sanyo Pharmaceutical) |
| 2012 August | Changed company name to Sanyo L Arrange Co., Ltd. (Sanyo Pharmaceutical Co., Ltd.) |
| 2003 October | Relocate the head office to Nakai Norin Bridge in Chuo-ku, Osaka Chuo Ward 2-4-12 (Mochinoki Pharmaceutical) |
| 2015 November | Changed company name to Sanyo Pharmaceutical Co., Ltd. (Sanyo Pharmaceutical) |
| 2016 September | Towa enters the Sanyo Group (Towa Pharmaceutical) |
| 2017 February | Joined Sanyo Pharmaceutical Group (Mochinoki Pharmaceutical) |
| 2018 May | Yamato Pharmaceutical enters Sanyo Pharmaceutical Group (Yamato Pharmaceutical) |
| 2019 January | Changed company name to Sanyo Yakuhin HBC Co., Ltd. (Sanyo Pharmaceutical) (Mochinoki Pharmaceutical) |
Telephone marketing Division
| | |
| --- | --- |
| 1991 March | Established as Telemart Inc. (Telemart) |
| 2008 February | Changed company name to Acress Corporation (Acress) |
| 2009 October | In-house e-commerce site "Acress-net" Open (Acress) |
| 2011 August | "Acresnet" Yahoo branch opened (Acress) |
| 2014 December | "Telemart shopping" Qoo 10 mall branch opening (Acress) |
| 2019 January | Changed company name to Sanyo Yakuhin HBC Ltd. (Acress) |
E-Commerce Division
| | |
| --- | --- |
| 1998 September | Established SVS Corporation Ltd. (SVS Corporation) |
| 2001 September | Established ONFESTA Inc. (ONE FESTA) |
| 2005 May | Launched services for integrated commerce official site "ONE ☆ FESTA" with 3 carriers (ONE FESTA) |
| 2005 June | Launched service for sister site "NewCafeShopping" (ONE FESTA) |
| 2011 July | Launch of "ONE ☆ FESTA" smartphone version (ONE FESTA) |
| 2013 November | "ONE ☆ FESTA" Yamada Mall branch opening (ONE FESTA) |
| 2014 January | "ONE ☆ FESTA" Amazon branch opening (ONE FESTA) |
| 2015 June | "ONE ☆ FESTA" Qoo 10 mall branch opening (ONE FESTA) |
| 2016 | On the international site of Tmall, an online shopping mall operated by China's e-commerce giant Alibaba Group,ONEFESTA Overseas Flagship StoreOpen (ONE FESTA) |
| 2018 June | Following Heavenly Cat International (Tmall Global), Sanyo Pharmaceutical Group is a top recommended store in Tokyo Shojo (JD.com), a leading B2C online shopping mall in China.ONEFESTA global purchase overseas flagship store Open (ONE FESTA) |
| 2019 January | Changed company name to Sanyo Yakuhin HBC Ltd. (SVS Corporation) |
Overseas Business Division
| | |
| --- | --- |
| 2008 June | Launch their own site "Oceo Port" (Fegen) |
| 2016 | Operates a flagship store (ONEFESTA overseas flagship store) of China T-Mall International of ONEFESTA Co., Ltd., a wholly owned subsidiary of Sanyo Pharmaceutical Group (Fegen) |
| 2018 | Operates JD Worldwide's flagship store (ONEFESTA global purchase flagship store) of ONEFESTA Inc., a wholly owned subsidiary of Sanyo Pharmaceutical Group (Fegen) |
Access
〒171-00212-39-6 Nishi-Ikebukuro, Ikebukuro Tsurumi Building 3F Toshima-ku, Tokyo
■A 5-minute walk from JR Ikebukuro Station Metropolitan Exit
■8 minutes walk from Ikebukuro Station West Exit