the Door-to-door sales of medicine Division
配置薬事業部
Office summary
Division name
The Division that Door-to-door sales of medicine
( formerly Sanyo / formerly Mochinoki formerly Towa / formerlyYamato )
place

【Ikebukuro office】
〒171-0021 2-39-6 Nishi-Ikebukuro, Ikebukuro Tsurumi Building 3F Toshima-ku, Tokyo
TEL:03-5928-1911
FAX:03-5928-1913
【Osaka office】
〒550-0002 2-1-1Nishi-ku Edobori,Edobori Center Building 12F,Osaka City,Osaka Prefecture
TEL:06-6225-2300
FAX:06-6225-2308

Number of sales offices
43 throughout Japan
Business content

Household distribution of drugs
Business of selling quasi-pharmaceutical products, healthy food, cosmetics, pharmaceutical products and healthy food for pets
Mail order business

Number of employees
300 people (as of February, 2019)
Business policy
Sanyo Pharmaceutical HBC is based on drug placement sales established in 1955.It has been used by approximately 300,000 customers at 42 sales offices in Japan. 
In the Great East Japan Earthquake, we could not use electricity, gas, water supply, but we received your voice that we were saved by our medicine box, nutritional drink, and we protected family for 24 hours on sudden disaster, sudden illness for 365 days. I hope that I can help with peace of mind and health. 
As we promote self-medication, we believe that our mission is to become one and only one health adviser and contribute to the improvement of quality of life.
Business content
We distribute human resources that can respond to all the trust of our customers throughout the country, and deliver medicines (supplements), supplements, health foods and cosmetics on the theme of "health" and "beauty." Your local representative will deliver your medication to your home free of charge, and then you will only settle for what you use during your regular visit, and you will be free to replace your unwanted medication. In addition, sales staff who are qualified as quasi-pharmacies and health food proposals and registered as a health adviser, support the health of each and every customer.
Door-to-door sales of medicine
Sales staff deliver first aid kit!
Security deposit, installation cost, visit cost, all free!
Regular visits!
The first time you receive a placement box, it is a basic set. Please feel free to contact the person in charge if you have the necessary products. I will correspond. After that, by changing the product configuration of the placement box at any time according to the usage situation, we will arrange the placement box for each home.
24hours Free rental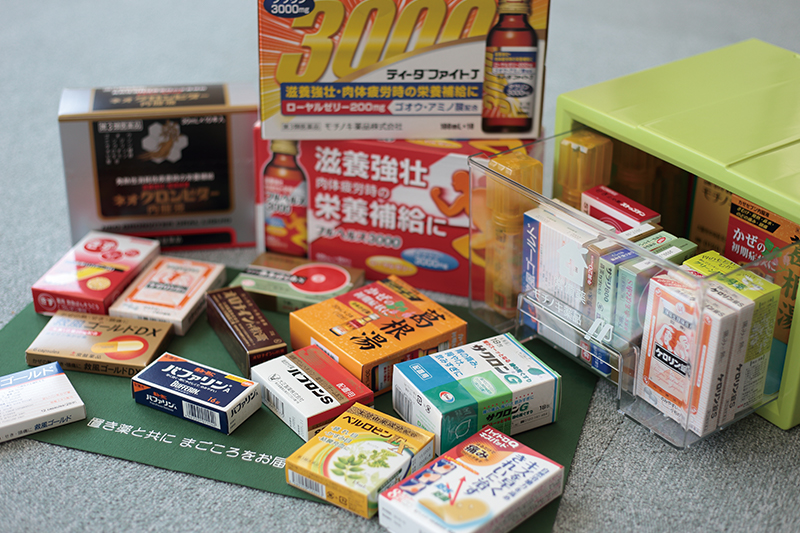 We will rent a 15,000 yen worth of household medicine free of charge 24 hours a day.
For nursing care, sudden illness of children, sudden disaster … by anytime Medicine box of relief! 
A wide variety of home emergency medicine can be used at any time
Reliance with "postpaid system" in any age. We will deliver the medicine for free.
It is a "placed drug" born for the health of customers. We will deliver medicines free of charge from now, now and now. The medicine fee will be charged later only for what you use.